7 Best Wall Ovens to Buy in 2021 – Buying Guide and Product Reviews
Our recommendations are made independently through research and testing following our
review procedure
. We may receive commissions from purchases made via our links at no additional costs to you.
Wall ovens are popular for their ergonomic style and the value they add to your home. Single wall ovens are adequate for everyday needs, while double ovens are the most convenient. Newer innovations offer small capacity double ovens suited to modern lifestyles. Large combination wall ovens include a microwave, but you can also get small built-in convection oven microwaves. Which is the best wall oven for you depends on your needs, your budget, and the space available.
Wall Ovens and Oven Ranges
An oven range is the easiest and simplest choice for a kitchen. Wall ovens, though, are increasingly popular and desirable. We look at how the two compare, how they complement each other, and the costs involved.
Wall ovens are more ergonomic.
It's easier to reach inside at a convenient height.
A wall oven vents into the kitchen and not into a range hood.
A Wall Oven Compared to a Range Oven
A standard 30 inch single range oven has around 5.0 cu.ft., and some even up to eight. That's a lot of space, even for a big turkey roast. A smaller oven, or a double range oven, is often much better suited to day to day cooking practicalities.
By comparison, a wall oven is usually between 4 to 5 cu.ft., but some may be less than four. For general cooking needs, a small oven of 2.4 cu.ft. can still manage an 18-20 lb roast.
Because a wall oven can be installed at an easy-to-reach height, this reduces physical strain and it's easier to reach inside. A single wall oven can also be installed below a countertop, or in a base cabinet if this is preferred.
Another key difference is that range ovens usually have a rear vent where heat, steam and particles can be extracted into a range hood.
Wall ovens, however, have a front vent usually just below the control panel, or at the base. This is important, because heat, odors, and hot vapor may be more of an issue with a wall oven compared to an range oven.
| Range Oven | Wall Oven |
| --- | --- |
| 5.0 cu.ft. or more | 5.0 cu.ft. or less |
| Energy wasteful | Energy efficient |
| Multi-rack baking | Single or dual rack only |
| Bending necessary | Bending avoidable |
| Vents into the rangehood | Vents into the kitchen |
| Single focal point | Diverse setup |
Advantages Of a Wall Oven
Range ovens have long been the norm, but for many modern day families and lifestyles a single wall oven, or a combo microwave wall oven, and a built-in cooktop is a better choice. Counter cooktops come in a wide variety of styles and sizes, and you can mix and match your appliances more such as an electric or gas wall oven matched to a gas, radiant coil, or electromagnetic induction cooktop.
If you keep your range and add a single wall oven, you have a lot to gain. You can reduce traffic around the cooptop, cook multiple dishes, or more people can have access to an oven. This is a more convenient setup with larger capacity for festive occasions compared to a double oven range. If you were to buy a double wall oven, there would be little advantage to keeping your range unless you really do a lot of baking.
Costs of Remodeling for A Wall Oven
Key kitchen upgrades, especially a wall oven with steam cooking, can boost your home resale price by over 30%.
You can recoup just over 80% of costs on a minor kitchen remodeling that includes a major appliance upgrade with a home resale.
A single wall oven can cost as little as $500 up to $1 500 or more. New cabinetry can range from $200 to $1000 or more depending on materials, features, and whether you require a double oven installation. Installation costs minus cabinetry average about $162 cost up to $300, but If you're replacing a wall oven, most retailers offer installation for around $200.
The average cost plus installation of a counter cooktop is $550 for an electric cooktop—$400 for a quality appliance and $150 for installation. The total for a gas cooktop depends on the need and length of the gas line, and costs could range from $650 to $1 000. Cost estimates vary, however, and they tend to vary more from location to location.
If a wall oven isn't for you, then see our other guide and selection of the best gas and electric ranges.
Best Wall Oven Buying Guide
If your heart is set on a wall oven, then here is our short guide to help know which is the best wall oven to match your needs and expectations.
1. Electric or Gas Wall Oven
Electric wall ovens are by far the norm. They don't necessarily require professional installation, and there's a wider selection available. Some people, however, prefer the moist heat of a gas oven for things like large cakes, flakey pies, or whole fish.
Electric ovens have a more even heat - especially with a convection fan. They also have more powerful broilers, or come combined with a microwave oven.
2. Wall Oven Sizes
Standard electric wall ovens are usually 27 or 30 inches wide. Often, exactly the same model is available in both sizes with little difference in price. This is because 30 inches has become the new norm.
You can get smaller 24 inch electric wall ovens. These are much cheaper and often favored for under-the-counter, base cabinet installations.
For gas wall ovens, you're often limited to 24-inch sizes for an affordable choice. Larger 30 and 36 inch gas wall ovens tend to be in more pro-style selections.
3. Single Double and Combo Wall Ovens
A single wall oven has just one oven unit, but some models may also have the option of a warming drawer — at an additional cost to the price tag and your cut-out dimensions.
With a double wall oven you have two oven units and, hence, two different cooking zones. This can save time and allow several people to use the oven at once. The two ovens are not always identical in features and design.
A combination oven or 'combo' has a primary oven, and the convenience of an additional microwave. The upper microwave unit often doubles as a conventional oven, a warmer, and may sometimes include a convection fan.
4. Holding Capacity of a Wall Oven
Most 30-inch wall ovens, single or double, have between 4.5 and 5 cubic feet of space per oven. A 27-inch oven has slightly less than 4.5 cubic feet. That's slightly less than a standing range. While it won't fit a huge turkey roast, it can easily handle a 20-pound bird or more.
If you buy a double oven, both ovens usually have the same capacity, but this is changing. More affordable hybrid models may have one convection oven and one traditional static oven.
Combination ovens or 'combos' are a little different. The smaller upper oven will usually be slightly less than 2.0 cubic feet, and the lower primary oven between 4.5 and 5.0 cubic feet.
5. Convection Cooking
A convection oven has a fan that circulates air around the oven cavity, cooking food faster and more evenly. Standard convection uses just a fan, whereas 'true', or European convection, has a heating element around the fan.
Standard convection can add an additional $200 or more to the price tag, and true convection a little more. A convection oven will use 20% less energy a month for cooking compared to a standard or thermal one.
6. French Door Ovens
French doors look quite stylish and swing out to either side. With no door opening down the front, you can reach your arm further into the oven. These designs add an additional $200‒$300 to the cost of the oven, and they're only found on high-end models — especially pro gas wall ovens.
7. Settings and Controls
Your wall oven will have either an LCD touch-panel control or a combination of digital and physical controls (knobs). Fully digital controls look sleek, but dial knobs are easier to use, easier to fix, and more familiar.
For double ovens and combos, there are separate controls for each oven, usually on the same control panel. Many models now have smart controls, which use WiFi and an app to adjust settings. Some may even have voice controls.
8. Standard and Advanced Features
The price point of wall ovens is often decided premium by features like steam cooking and power ratings of elements. Gliding stop racks, meat probes, temperature sensors, proofing modes, and cooking presets also increase the price.
For most wall ovens, self-cleaning modes, delay start, timers, automatic shutdown, control locks, and clocks are standard.
Reviews of the Best Wall Ovens in 2021
Our two best selections are a combo oven and a twin flex oven suited to modern lifestyles. We also have a traditional single and double wall oven, and two great choices for a small and convenient multi-functional oven.
Here are our top picks for The 7 Best Wall Ovens to Buy in 2021
This is a well-priced microwave combo wall oven with a few nice extras on the features. It's not top of the range, but if you know what you're getting, you shouldn't be disappointed.
True convection

Preheat mode

Bread proofing

Delay start

30 min steam clean

2 racks - one gliding stop rack

Microwave popcorn

Temperature sensor cooking
Microwave basic

Control panel quality

Customer support not the smoothest
The 1.6 cu.ft. Microwave Oven
The best thing about the microwave is the door. It swings open to the side, so it's easy to reach inside and not difficult to clean. It's not exceedingly large, and for the price point it doesn't double up as a conventional oven.
The features of the microwave are pretty basic compared to the more high spec microwaves you often get on a combo wall oven. Included in the presets are sub menus too. Melt, for example, has 4 different options, and you can heat 3 cups at a time.
Sensor cook detects rising levels of humidity for automated cooking of unwrapped items. You can also cook by power rating, and multi-stage cooking allows you to program in two cooking times and power levels. A nice extra is the volume control at low, medium, or high.
The 3.8 cu.ft. True Convection Oven
This oven can do 2-rack baking using 5 rack positions. The most appreciated feature is the gliding stop rack (also 1 handle rack) and the meat probe. It's also brightly lit with two halogen lights in each upper corner. The bake element is hidden, so it's easy to clean inside.
A few value features are add-1-minute to the preset time, sound muting, control panel and door locks, and convection convert for standard recipes. The 30 min quick steam clean function is also a great plus.
There is of course a delay start, and the timer can be set to keep warm or turn off after completion. As a safety feature, the oven switches off after 12 hours, but there is also a continuous bake override.
For cooking parameters, bread proofing is only done at 100°F (38°C). The broiler power rating is 3 400 W, which matches the price point. There is HI / LO broil at 400°F (205°C) and 550°F (288°C). If you hold the broil button down for 6 sec, you can change from °F to °C.
User Experience
The oven gets good results and most people are happy for that. Also, the fan runs a lot quieter than previous Frigidaire wall ovens. As mentioned, the microwave is nothing special, and some think it's a bit small.
One issue that has come up with this oven is the control panel. Sometimes it's not the most responsive on all ovens, and is the top reason for call outs. Customer service via telephone can take a long time, but people find online communication is more responsive.
Always check with your seller whether a trim kit is included, especially if you are retro-fitting from a previous 30 inch cut out. It's also worth asking the seller if they do the installation as well.
Check Latest Price on Amazon
Profile is a higher spec brand of GE, and this is a fairly recent release. This 'Twin Flex' is actually a conveniently-sized double oven. It's an ideal set up for everyday needs, and the larger oven has true convection.
1 rack and 2 rack oven

True convection lower oven

Pizza mode upper oven

Slow cooking lower oven

Fast preheat

Scan to cook

Proof mode
Timer not flexible

Broilers not the best

Racks somewhat stiff
What the Ovens Can Do
Most people these days appreciate speed, convenience, and adaptability. For this reason, combo microwave wall ovens are popular. These conveniently-sized double ovens, however, are a top choice for healthier home cooking.
The total capacity is 5.0 cu.ft. The upper 2.2 cu.ft. oven is a good size of small bakes, casseroles, pizzas, and reheats. Both ovens have a broiler, and the lower one is slightly more powerful. The lower 2.8 cu.ft. oven can take a 20-22 pound bird.
For cooking features, both ovens do HI / LO broil, and you can do closed door broiling. Slow cooking, in the lower oven, is also HI / LO. HI runs from 3 to 8 hours, and low from 3 to 12 hours.
A couple of nice extras are lights in both ovens, operational volume control, and lights-off for the LCD Screen. The timer, however, cannot be adjusted while cooking and there is no add-a-minute function. After cooking, the oven can go to auto off or keep warm.
Use Experience
For the most part, users across forums love these ovens. They are great time and cost savers too. For pro bakers, the rack positioning is limiting, so a bigger oven would be better. Cooking results are good, although the lower oven seems to cook a little faster even without convection.
For the price, the only let down are the broilers. Both are slightly below 3 000 W and for the price they could have been more powerful. The mod-con extras like voice commands and scan to cook from barcodes are nice, but not many people seem to use them.
Check Latest Price on Amazon
This new Frigidaire Gallery series is a nice sizable deal for a single wall oven. It can do three rack baking, and comes with two heavy duty gliding racks with handle edges.
5.1 cu.ft.

3 Racks - two heavy duty

True convection

Hidden bake elements

Meat probe

Quick preheat

Bread Proofing

Add-a-minute
No LCD lights off

Door difficult to remove
A Single Oven to Suite All Needs
This oven has all the finer specs that you will find on any Frigidaire Gallery, but it's what you can do inside that makes a difference.
Many wall ovens are only around 4.6 cu.ft., but this Frigidaire Gallery is a spacious 5.1 cu.ft. This is the same size as Wolf and Samsung wall ovens. As such, you can do three rack baking like a range oven. Two of the racks included are heavy duty stop racks.
Performance highlights include true convection with an element behind the fan, and a hidden bake element. Broil can be done at 400 or 550 °F. It has all standard extras for this class of Frigidaire such as timers, locks, and bright interior lighting.
User Experience:
There are few major issues with this oven. People find it preheats fast and cooks well. Also, comparatively speaking, the front of the oven doesn't get too hot. Neither does it produce excessive residual heat in the kitchen. Online customer service on the Frigidaire website is helpful and prompt.
Check Latest Price on Amazon
Two large 5.0 cu.ft. ovens. The upper oven does true convection, and both ovens proof and keep warm. These new models integrate with Wi-Fi, Nest systems, and use voice controls.
Upper oven true convection

Preheat, proof, keep warm on both

Meat probe

Hidden bake elements

Remote WiFi controls

Scan to cook
Racks not the best

Cord placement

Slow preheating
Increasingly, newer wall oven models are reaching the 5.0 capacity mark. The extra space may make a difference to some, but these ovens still only offer two rack baking. There are 6 rack positions, so you may be able to do 3-rack cookie baking using a rack from the lower oven.
For the price and the mod cons on this oven, the racks fall short. You don't get gliding stop racks and the extension rack is cumbersome to use. Overall, however, it's a popular and well-reviewed oven. People love all the extra features, the app controls, but preheating seems to take too long.
One key issue is with the cord which some find a little short. Also, it comes out the top of the oven and not the bottom, so installation may or may not be a hassle.
Check Latest Price on Amazon
If you're limited for space, or just looking for a built-in appliance to add value and versatility to your kitchen, this built-in combo microwave by Frigidaire is a sure bet.
Drop door 1.6 cu.ft.

Convection oven > preheat

Power broil and grill

Sensor cooking

Melt and keep warm

Multi-stage cooking

Add 30 seconds
Cleaning a stretch

Operational volume low
This small combi oven is a time and money saver when it comes to small dishes, microwave cooking, and easy reheats. It doubles up as a convenient broiler and a place to keep food warm. It's also good for 'air frying' and heating up fried foods to a crispy texture.
Sensor cook enables you to cook favorite food without having to hassle about times and power levels. It includes options for bacon, frozen entrees, white rice, ground meat, and seafood. Sensor reheat has options for pizza, pasta, and casseroles.
Check Latest Price on Amazon
A small professional oven that can add more than a touch of class to your kitchen. The steam function is a key highlight, and it also has auto cook options.
European convection

Steam cooking

Convection broil > steam

Reheat > sterilize

Auto cook menu

Delay bake

Timer

Simple controls
This might be a small oven, but if that's all you need, one of these Italian designed Bertanozzis are worth the price. They're also a great compliment to any kitchen for their steam cooking function, and as a convenient second oven.
Steam and broil can both be used with the true convection feature. There is also a setting for hard and soft water, and a descaling function too. The Auto Cook has easy preset options for meats, fish, and vegetables.
Check Latest Price on Amazon
This 24 inch gas oven is nothing fancy, but at the same time it's more than just basic. It has an 14 000 BTU oven, an electric broiler, and a storage drawer at the bottom.
Power 14 000 BTU oven

1 000 W electric broiler

Preheating

Simple controls

Halogen lights

Door lock

Bottom storage drawer
No broiler pan included

No side trims
If you love the superior results of a gas oven for cakes and delicacies, this Frigidaire has a few nice specs.
It puts out 14 000 BTUs or the equivalent of 4 100 W. That's more heat than some electric ovens. You can do both HI / LO broil with a 1 000 watt electric broiler. It's sufficient but not that great. Preheating, however, is relatively fast.
The controls are very easy to use, and there's a timer but no auto-off function. The oven is nicely lit with halogen lights and for peace of mind there's a door lock. The bottom drawer is for storage only and a few baking pans are included.
Check Latest Price on Amazon
Comparison Chart of the Best Wall Ovens in 2021
Model
Capacity Cubic Feet
Key Features
27-in Frigidaire Combo
1.6 upper
3.8 lower
True convection, sensor cook, multi stage cook
30-in GE Twin Flex
2.2 upper
2.8 lower
True convection, slow cook, scan to cook
30-in Frigidaire Single
5.1 single
True convection, 3 heavy duty racks, meat probe
30-in GE Double
5.0 upper
5.0 lower
True convection, meat probe, Wi-Fi connect
30-in Frigidaire Combo
1.6 single
True convection, sensor cook, multi-stage cook
30-in Bertazzoni
1.34 single
True convection, steam cook, auto menu
24-in Frigidaire Gas
3.3 single
14 000 BTUs, preheat, 1 000 W broiler
How to Measure a Wall Oven
If you're planning to replace an existing wall oven with no retro-fitting, you need to know all the dimensions. These may, however, be in the manual or the data could be available online.
Switch off the circuit breaker and / or turn off the gas main to the oven.
Measure the exact width and height of the oven as it stands in the wall, including any trim.
Also note and measure the exact width and height of the cabinet, as well as space above and below the oven.
Open the door and locate the screws which secure the oven to the cabinet.
Gently coerce the oven an inch or two out of its cabinet frame, but do not pull on the door. Wall ovens can be heavy, so don't exceed two inches.
With the insert exposed, measure the width and the height of the cabinet cut out— these are the cut out dimensions for your new oven.
The depth of the cabinet can be measured and estimated without completely removing the oven.
Push back the oven, secure any trim, replace the screws, and turn the electric and / or gas power back on.
How to Install a Wall Oven
Once you have your cabinetry prepared, installing a wall oven — either in a wall cabinet or a base cabinet — is fairly straightforward. However, most built-in appliances, and especially wall ovens, require hardwiring or direct wiring meaning they don't have a plug.
If you don't feel confident doing this, it's probably better to get professional help. Product manuals and product homepages usually have detailed information you can download. Vendors often provide free or low cost installations, and many manufacturers have online video demonstrations.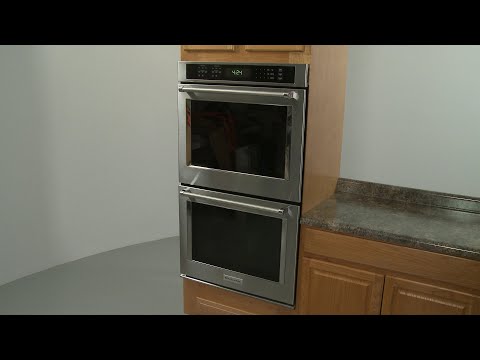 Luna Regina
Luna Regina is an accomplished writer and author who dedicates her career to empowering home cooks and making cooking effortless for everyone. She is the founder of HealthyKitchen101.com and HealthyRecipes101.com, where she works with her team to develop easy, nutritious recipes and help aspiring cooks choose the right kitchen appliances.