Instant Pot Air Fryer Lid Reviews: Buying Guide & Top Picks
Our recommendations are made independently through research and testing following our
review procedure
. We may receive commissions from purchases made via our links at no additional costs to you.
If you're here, you probably already know that Instant Pot, in all its forms, lends a helping hand with everything from pressure cooking to yogurt making. With the Instant Pot air fryer lid, you can even turn your regular pressure cooker into a powerful air fryer without having another bulky appliance crowding your countertop.
Imagine the convenience of quickly pressure-cooking ingredients to lock in flavors, then giving them a crispy, golden finish with one simple switch of the lid. Using an Instant Pot as an air fryer replacement allows you to make better use of your appliance and its various other functions.
For those with tiny kitchens, this is also the best solution for effectively managing kitchen space constraints. Though some people think that the lid doesn't work as well as a standalone air fryer, it's just a way of keeping up with the latest cooking trends without taking a toll on the wallet.
Whether you want to enjoy different styles of cooking in quick and easy ways or just want to stay current with a new frying method, let's take a look at our Instant Pot air fryer lid reviews.
What are Instant Pot Air Fryer Lids?
Instant Pot air fryer lids are specially designed to anticipate your roasting, crisping, and air-frying needs. They give fried foods a golden brown finish by using a built-in fan and heating element to circulate hot air around the food at high speed. Less fat and cooking oil are needed overall, thereby limiting the calories consumed.
Just keep in mind that while high-speed air circulation technology brings a crispy and golden surface to your food without involving too much cooking oil, it cannot bring the same flavor and texture as traditional deep-fried foods. This is also the case for even a solely dedicated air fryer.
Using an air fryer lid involves placing it on the top of your Instant Pot and plugging it in. Prior to doing this, make sure you have unplugged the pressure cooker and had the inner cooking pot inserted into the base. To get started, set the cooking time and temperature as specified by the recipes you're following.
During the cooking process, if you want to flip the food or shake the basket, pull up and lift the lid's handle. This will put a stop to the frying cycle, which will not resume until you put the lid back on and press the handle into the down position.
Most Instant Pot air fryer lids can only work with stainless steel inner pots. To eliminate the risk of fire, personal injury, or electric shock, they shouldn't be used with aluminum or ceramic coated pots. However, there are some air fryer lids that are compatible with ceramic pots. You'll need to check the instruction manual to make sure.
For optimal safety, you should only use your lid with a compatible electric pressure cooker. To ensure compatibility, check the product description before you buy.
How To Buy the Best Instant Pot Air Fryer Lid
Price
Typically, you can get a reliable lid that works well for around $55. There are also pricier lids that cost about as much as some Instant Pots or standalone air fryers, but they don't take up as much storage space.
Size
Most lids are compatible with certain 6-quart Instant Pots, which may be a problem for those different sized pots. There are also lids that can fit every brand of 6-quart and 8-quart electric pressure cooker, but they are not common. And since they are often transparent tempered glass lids, they allow you to see the cooking process without lifting them.
Control Panel
Lids with a built-in digital touch screen often give more control over your cooking, since their cooking presets for some common fried foods will let you cook with the touch of the button.
Lids with plastic control knob dials are also available, but at a cheaper price. While they aren't able to take care of the guesswork in terms of time and temperature, they are suitable for people who want to avoid being overwhelmed by confusing and overly complicated buttons.
However, occasionally the knobs could become worn or broken, preventing you from selecting the appropriate settings. Over time, they also get more than dirty, with grease building up from oil splatters. Even if you don't cook often, the knobs somehow accumulate a lot of grime, making them one of the dirtiest spots in the kitchen.
No matter what control style you choose, your lid should be programmed to operate at different temperatures so you can use it for various purposes. And since most air frying recipes call for oil heated to anywhere from 350°F to 375°F, you'll need to find a lid that's able to reach at least 375°F.
Reviews of the Best Instant Pot Air Fryer Lids in 2021
The Instant Pot Air Fryer Lid is the most reliable solution for transforming your traditional electric pressure cooker into an efficient air fryer. As with most lids, it only works with certain 6-quart models that feature stainless-steel inner pots. Duo 60, Lux 60, Duo Plus 60, ViVa 60, and Nova Plus 60 to name a few.
Advanced safety features

dishwasher -safe accessories

Lightweight and compact

Six preset smart programs

Simple controls
If you aren't sure which Instant Pot model you have, contact the Instant Pot's Customer Care Advisor to figure it out.
Top-Notch Performance
Featuring powerful built-in fans, the Instant Pot Air Fryer Lid conducts heat around the food evenly rather than concentrating only on the top. This way, it gives your food a delicious all-over crisp while preventing the risk of food being under- or overcooked.
The lid's heating elements also work better than those of the other models, which may be why it usually takes less time to preheat. On average, your cooker just needs 2-5 minutes to reach the perfect temperature. This will let you start cooking in no time at all and will shorten the cooking time significantly.
Unique Features
Ultimately, what we like most about the Instant Pot Air Fryer Lid is its convenience. As a smart multifunctional device, its touchscreen control panel allows you to choose between six built-in presets programmed for specific cooking tasks like air frying, broiling, dehydrating, baking, roasting, and reheating.
If you want to set the cooking time and temperature manually, the control panel is also straightforward to use, which makes the machine entirely practical for those who are new to air frying.
Useful Accessories
As for accessories, a multi-level air fryer basket comes included, as does a protective pad, and a dehydrating and broiling tray exclusively designed for perfect air flow. With use, however, these top-rack dishwasher-safe accessories can become discolored, which is also the case for the lid's perforated stainless steel heating elements cover.
Though this is completely normal and in no way impairs your cooker's safety or performance, hand washing is recommended to maintain the original shine.
With its stay-cool handle, lifting the lid to take out the basket is very easy. That being said, when it comes to removing the basket, it may be a little tricky unless you use oven mitts, since it's hot and will cause serious burns to unprotected hands.
Verdict
So far, we haven't found any durability problems with the lid. Its ability to fry, grill, bake, and roast food is quite impressive. As mentioned above, none of the air fryer lids on the market can produce fried foods with the same flavor and texture as that delivered by deep fryers, but more often than not, this impressive tool has come out near the top in that regard.
Check Latest Price on Amazon
2. MICHELANGELO - Best Air Fryer Lid for 8-Quart Instant Pot
In comparison to the top pick, the MICHELANGELO is cheaper, but comes with more cooking presets, providing you with greater convenience. Despite the low price point, it works as well as the Instant Pot air fryer lids, producing crispy brown food without drying it out or impairing the flavor.
Good for larger capacity air frying

Affordable

Eight select-able preset air fry cooking modes

All-around cooking and frying

Safety protection features

ETL Certified
Cannot be used for longer than 30 minutes

Buttons make annoying sounds when pressed
Higher Compatibility
The MICHELANGELO is among the few air fryer lids that can work with all brands of 6-quart and 8-quart electric pressure cookers, except for ones featuring ceramic inner pots. And since it is especially suited to most Instant Pot models, you can easily pressure cook first and use the lid to crisp up your dish without having to worry that it won't fit your cooker properly.
Still, the device is not designed to be used for longer than 30 minutes if heated at or above 390°F. Before cooking the next batch, you'll also need to let the inner pot and the lid cool for at least 10 minutes.
Apart from ensuring optimum performance, this will help protect against overheating and enhance the device's durability. Because this is not a problem with all air fryer lids, we think it'll factor into many people's decisions.
Durable Tempered Glass Lid
Another thing we like about the MICHELANGELO's tempered glass lid is that it allows you to peek at the food without lifting the lid and letting all the essential moisture escape.
But as it's made of glass, it seems to be more fragile than the best-to-buy pick. Don't panic, though. The lid is still sturdy enough to withstand temperature changes. It also would not break easily if accidentally dropped. To avoid breakage, you just need to take special care when it comes to cleaning and storage.
One-Touch Operation
The control panel consists of seven buttons and an LED screen displaying time and temperature. Though it feels quite complicated to switch between settings, once you get the hang of it, you'll see it's a tad bit easier than it seems.
By default, the buttons make an annoying sound every time you press them, which can be distracting, as complained about by several buyers on Amazon. This could also be a turn-off for those who usually cook late-night meals.
But the noise can be disabled, you just cannot do it by following the instructions as they're incorrect. To be specific, you'll need to press the Power button for approximately 3 seconds to mute the sound instead of the Start one as claimed by the instruction manual.
Verdict
Versatile and efficient, the MICHELANGELO allows you to enjoy different styles of cooking without the need for multiple appliances. Apart from taking just a couple of minutes to heat up, it also works well for nearly all cooking tasks, from roasting a whole chicken to dehydrating jerky. We highly recommend it.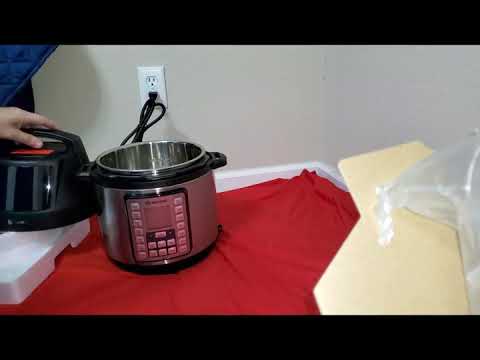 Check Latest Price on Amazon
3. MOOSOO - Best Affordable Instant Pot Air Fryer Lid
The MOOSOO is the least expensive air fryer lid on our list that has great reviews on Amazon and can be used for most 6-quart Instant Pot pressure cookers. Overall, it comes close to the top pick at cooking a variety of foods to a delicious, crispy result using up to 95% less fat.
Modern and stylish design

Advanced LED display

Various pre-selected settings

High-powered heating elements

overheating protection

Automatic shutdown function

Inexpensive
Less convenient to use

No accessories included
Ultimate Cooking Versatility
With seven pre-selected settings, the MOOSOO can do more than just frying. You can use it to grill, roast, bake, or even reheat without taking time to figure out which temperature is best to cook your food.
Still, the device doesn't come with any attachments other than an instruction manual, which explains its low price point. If you want something to support and help you cook with ease, frying baskets and steam racks are available for purchase separately. Or you can also contact the MOOSOO manufacturers and they will send you these items for free.
Practical Design
The lid's digital controls are intuitive to operate, from adjusting temperature to setting the cooking function. They are self-explanatory, so programming the device without reading the manual is a no-brainer. You don't need to have any advanced knowledge about air frying prior to operation.
Disadvantages
Food in the inner pot should be turned, flipped, or rotated to get the crispy all over crispy finish, but the inconvenience is that the tool doesn't have a "TURN FOOD" alert like the Instant Pot Air Fryer lid. You'll need to time this yourself as your recipe recommends.
Verdict
Despite lacking some convenient features, the MOOSOO air fryer lid could be a very good addition to your kitchen if you're looking for an efficient but inexpensive method to cook great-tasting air-fried foods, and don't mind skipping on accessories.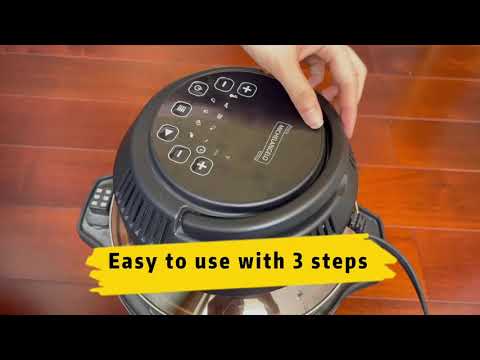 Check Latest Price on Amazon
Top-Rated Instant Pot Air Fryer Lids Comparison Chart
Product
Capacity
(Quart)
Wattage
Warranty (Year)
Instant Pot
6-quart
1500
1
MICHELANGELO
6-quart
8-quart
1000
1
MOOSOO
6-quart
1300
1
Conclusion
If you're someone who is truly passionate about cooking but has a tight work schedule, then you probably need a gadget to help get your cooking done in a short amount of time. An Instant Pot lid would be helpful in that situation.
However, finding the right tool is never an easy task, especially when there is an abundance of models and product brands available on the market these days. And since we all have varied needs and different budgets, randomly picking out an item or following the recommendation of someone who you only know by their name through a computer screen is less likely to make much sense.
That's why we hope our Instant Pot air fryer lid reviews will come in handy for making your compatible pressure cooker more useful in the kitchen.
Luna Regina
Luna Regina is an accomplished writer and author who dedicates her career to empowering home cooks and making cooking effortless for everyone. She is the founder of HealthyKitchen101.com and HealthyRecipes101.com, where she works with her team to develop easy, nutritious recipes and help aspiring cooks choose the right kitchen appliances.